Evolution BMS
It is a SCADA / BMS-Like visualization software pre-installed in an industrial embedded Linux PC with many advanced modules. Available in different hardware versions (also available in virtual machine) to match the requirements of any type of installation: from small homes to offices, hotels, airports, etc.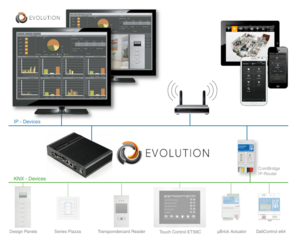 HTML5 Graphical Interface
Fully customizable and completely RENOVATED IN HTML5 user interface, accessible via Web and compatible with mobile devices (tablets, smart phones, etc.)
Browsing based on menus, desktops, windows, pages and gadgets. thus, allowing a high level of customization, as well as the generation of properly arranged environments for any given requisite.
Why is it so powerful?
It is the optimal solution to monitor and control any data point type, and has many advanced modules included to realise many SCADA-like tasks. I.e. Create alarm warnings, integrate IP cameras, generate scenes, time schedules, advanced logic functions, etc.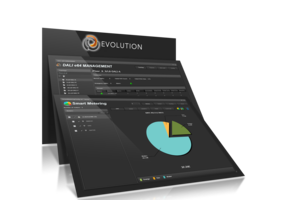 On top of that, EVOLUTION BMS is designed to log any KNX value for further reference and analysis.
Thanks to its possibilities regarding user rights and permits, different environments can be created for each user. Additionally, each user can be assigned different elements and advanced controls for monitoring and/or control.
Using the data base module, EVOLUTION BMS and its KNX data can be integrated with external systems in a very simple and flexible way.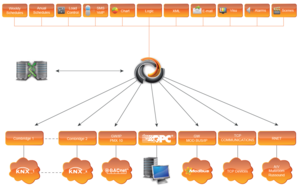 It supports the integration with other systems, such as Modbus IP, Bacnet, etc. commonly used in BMS.
Smart Metering functionality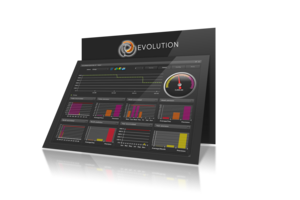 The Smart metering module provides an intelligent management of consumption (electricity, gas, water, etc.), including forecasts, comparisons, load consumption analysis, printing of reports, etc.